Experience your dream holiday in the Ardèche
l'Ardéchois
Explore our campsite at an
unique location
---
Our campsite (under Dutch management) excels due to its personal approach and atmosphere. Here you are certainly not a number, but a member of the L'Ardechois family. .
The campsite is ideal if you are a lover of peace, space, luxury and conviviality. Even though the campsite is located in the middle of the beautiful unspoilt nature of the Ardeche, you are provided with all amenities. Especially for (racing) cyclists, this part of the Ardeche is the perfect area to indulge your sporting passion. Every year the Ardechoise cycle tour is held nearby.
The campsite is located on the Glueyre river, where you can play, swim and fish.
The campsite is also very suitable for young families. Although we have a nice English speaking animation team during the high season, your night's sleep is guaranteed! A campsite that is still well organized and where your children can enjoy freedom. The cozy atmosphere makes it very easy for your child to connect with peers and thus have a fantastic holiday (and you too, of course!).
We have very interesting offers in the early and late season. Our swimming pool is already open .You can have nice hikes or go cycling. In short, you certainly won't be bored with us. But the motto remains: nothing is mandatory and everything is allowed!
The campsite is located 8 kilometers from the nearest village of St. Sauveur-de-Montagut in a sunny and shady park decorated with flowers. The reception is located on a quiet road, which separates the campsite into two parts; the lower part near the river and the "central" upper part near the swimming pool, entertainment and restaurant. The site consists of 37 hectares, of which the campsite consists of 5 hectares.
Relaxing @ the pool
At the pool you have a beautiful view of the surroundings. Settle down on one of the luxurious sunbeds. And the fun begins!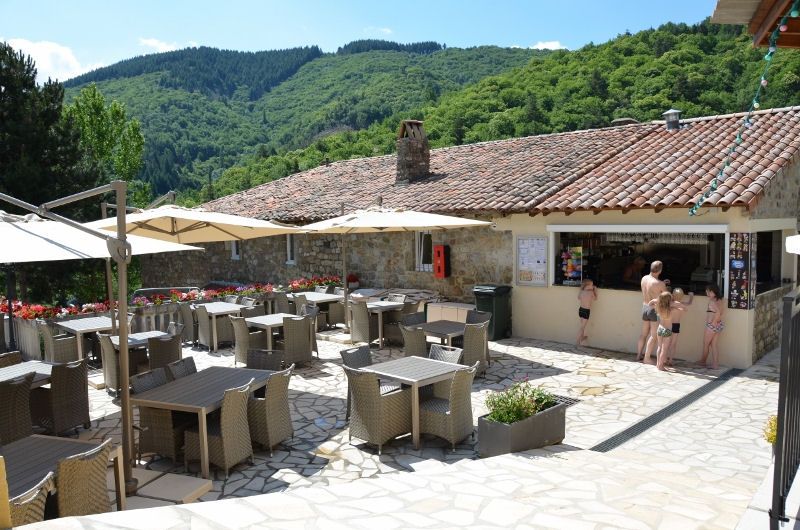 No motivation to cook?
That's not necessary with us! Take a seat on our terrace at the restaurant or snack bar and be pampered!
Team
We are a campsite that values a personal approach and a family atmosphere. No one is just a number to us. Customer friendliness is our number one priority. Team l'Ardéchois' ensures that our guests have an unforgettable holiday that they will remember with pleasure for years to come.

We wish you a pleasant stay!
Theo en Christa de With
Explore the camping
Activities
Swimming in the river
Hiking
Fishing
Animation